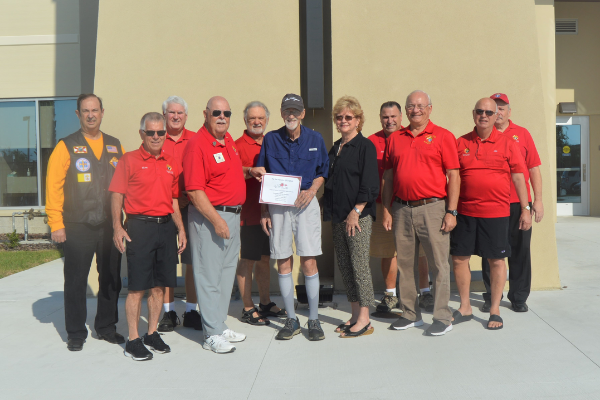 The Knights of Columbus were challenged with collecting enough funds to help offset our Seminarian's Tuition allowance during a pandemic. We understood the importance of this tuition, so our council banded together to find a new, socially distant, way to accomplish this goal.
Our Brother Knight, Ken Rabideau's wife, Diane, suggested an idea to sell raffle tickets for a gift certificate to a 5 course dinner for 4 at the Rose Plantation, a local restaurant that would be perfect for this situation.
I grew up with the Knights of Columbus because of how involved my father was with our council in Ocala, so I joined as soon as I was able to and the Knights helped me to develop a love of the Church and the priesthood in my heart. The aid that we seminarians receive mean more to us than people imagine because we are being taught to be servants by your example. I have found that every word of support, every prayer, every donation has placed a deeper desire in my heart to return home to our diocese one day as a priest to try to repay our community for what they've done for me. Particularly, the Knights have been a part of my discernment from the beginning as a kid, to now as a seminarian, and hopefully into the future when I can work with a council at my future parish.

– Phillip Mills
One of the things that has helped me throughout my time in formation has been the support of the people of God, especially the Knights of Columbus. Tuition Aid from the Knights has allowed me to focus on my formation at the seminary and to give myself completely to my studies, my prayer, and my ministries. Without this help, I would not be able to devote myself entirely in the process of formation.


– Eddiel Rivera Salgado
Tickets sales were outstanding, with over 280 tickets sold, taking in over $5,700, including donations, ending up with a net profit of almost $5,200 to use for our Seminarians and other needed charities. We thank all our Brothers who participated with ticket sales; our parish for advertising it in our bulletin; and last, all those making donations to this worthy cause.
The winning ticket was drawn on March 17 for Jim and Rita Watson. A Gift Certificate was presented to them on March 27 in front of the new St. Vincent de Paul Parish Hall by our Grand Knight, Gary Quinn, along with several participating Brothers.